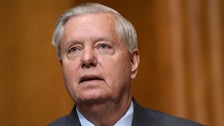 Inspire an insurrection? Forgivable. Systemic racism? Not a problem. But if you criticize Chick-fil-A, you'd better watch out, because that's the hill Sen. Lindsey Graham (R-S.C.) is willing to die on.
The senator devoted a tweet thread to defending the chicken sandwich chain on Wednesday after students at the University of Notre Dame wrote a letter opposing a proposed Chick-fil-A restaurant on its Indiana campus. Students at the Catholic college cited "ethical concerns" over the chain's well-known anti-LGBTQ stance and donations to anti-LGBTQ causes.
Graham said it was "disappointing to hear some ND students and faculty want to ban Chick-fil-A from doing business on campus because they disagree with the values held by the Chick-fil-A founders."
"I want everyone in South Carolina and across America to know I have Chick fil-A's back," he tweeted. "I hope we don't have to, but I will go to war for the principles Chick fil-A stands for. Great food. Great service. Great values. God bless Chick fil-A!"
Critics online were stunned but not surprised.
Graham, a devoted Donald Trump ally, has remained loyal to the former president even after he incited a violent insurrection on the U.S. Capitol on Jan. 6. Graham has pointed the finger at others, including House Speaker Nancy Pelosi (D-Calif.), over the attack. And while he has condemned the insurrection, his support for Trump has not waned.
His name was trending Wednesday after he expressed his views on the fast-food chain.
Calling all HuffPost superfans!
Sign up for membership to become a founding member and help shape HuffPost's next chapter